Free Warehouse Review
Are you happy with your warehouse?
Is floor space an issue in your warehouse?
Does your put-away operation take longer than it should?
Is your business growing faster than your warehouse can handle?
Do you struggle to complete all tasks within the normal working day?
Is your current warehouse management system not keeping up with daily operations?
Do you know you need better inventory management?
If these sound like some of your warehouse challenges, we can help!
SnapFulfil can provide you with a free, no obligation review of your warehouse operations.
How does the warehouse review process work?
Phone Consultation: The first step in the review process will be an initial phone consultation, where we will learn more about your business and discuss your specific warehouse challenges. We'll provide you with information about the SnapFulfil cloud warehouse management system (WMS) and how it may benefit you.
Site Visit: If your warehouse requirements and operations require a more in-depth analysis following the phone consultation, the SnapFulfil team will then come to your facility and conduct an on site review of your warehouse operations to determine your level of fitness for a cloud WMS solution.
Review: At the conclusion of our warehouse review, we will provide a written outline of our warehouse software solution and how it will meet each of your ongoing warehouse challenges.
---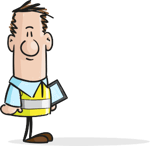 Watch our animation video to learn why a struggling warehouse needs the SnapFulfil cloud warehouse management system
---