Download the Guide
Guide to Onboarding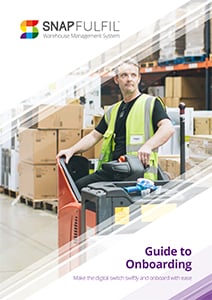 Businesses will often delay critical decision making until they perceive it to be the right time. But in the over-stretched and under-resourced arena of warehouse management, there is never a right time to overhaul and introduce a new warehouse management system (WMS). This is why there is no time like the present to tackle necessary business decisions.
In this guide we attempt to answer the most frequently asked questions we get asked by businesses looking to make the switch and onboard with our cloud-based WMS, SnapFulfil.
Complete the form to download the SnapGuide.