Download the Guide
From 'distribution center' to 'direct to consumer'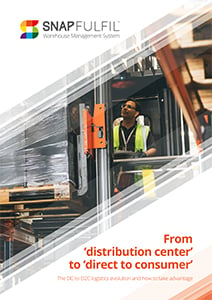 We now live in a world driven by fast moving e-commerce and ever shifting customer demands - with the need for flexible warehouse operations key. The growth in direct to consumer (D2C) retail - from boutique operations to global brands - has accelerated over the past 24 months, bringing heightened demand for agile, cost effective warehouse management solutions. But don't worry - this needn't cost the earth.
In this guide we look at what you should consider when making the move from wholesale distribution to online D2C retailing, including what to think about when making the switch from a legacy warehouse management system (WMS) to a cloud-based solution.
Complete the form to download the SnapGuide.