Meet with SnapFulfil at IMHX
Attending the next IMHX show?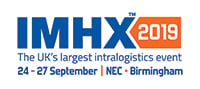 On 24-27 September, over 20,000 supply chain professional will gather at IMHX to evaluate cutting edge technologies, explore the latest industry solutions and discuss how to increase efficiencies within supply chain operations.
SnapFulfil will be on Stand 6E178 to exhibit its unique warehouse management solutions for companies of all sizes.
If you'll be attending IMHX, we would love to meet with you and learn more about your business. Let's discuss how a SnapFulfil WMS solution may help you address your current challenges.
Please complete the brief form to schedule a meeting at IMHX with a member of the SnapFulfil team.